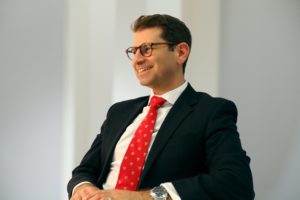 Business Innovator and Technology visionary with global experience in delivering change in security, technology and business strategy to achieve tangible business results within global enterprises and Governments worldwide.
Having over 20 years of industry experience Gilbert considers himself on the cutting edge of technology, living at the intersection of Business, Technology and Security. By blending his technical expertise and business know-how, he is able to transform and solve complex challenges faced by business and Governments around the world.
Results oriented with consistent track record of envisioning, delivering, and leading security and technology based large scale initiatives within Financial Services, Governments and Global Enterprises.
He's actively working to advance technology in the areas of AI, Cybersecurity, Blockchain and Fintech.
Gilbert has lived and worked all around the world in the UK, Australia, Asia, Europe, and the US. Throughout his career he has been working extensively within Financial Services and Government. He has an MBA from the University of Technology, Sydney.
My Linkedin profile and background is here
On twitter I am @gverdian
PUBLICATIONS